Source: CollegeWeekLive.com
HACU partners with CollegeWeekLive to help high school students gain access to higher education
Admissions Representatives from HACU Member Institutions Can Join HACU Speakers for a Live Online Chat with Prospective Students at March 24th and 25th www.CollegeWeekLive.com Spring Admissions Event
Needham Heights, MA, January 25, 2010 -- CollegeWeekLive, the premier web destination which brings high school students and colleges together live online, today announced a partnership with the Hispanic Association of Colleges and Universities (HACU). The partnership utilizes CollegeWeekLive's online college fair and admissions event destination to provide Hispanic students and families access to higher education resources.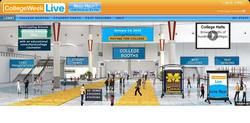 CollegeWeekLive Spring is March 24-25
CollegeWeekLive is an educational resource that supports HACU's mission to inform Hispanic students and their families about post-secondary educational opportunities. 15% of CollegeWeekLive event attendees in 2009 were Hispanic. "Our mission is to improve Hispanic educational success by reducing the barriers and increasing the resources available to Hispanic-Serving Institutions (HSIs) and to Hispanic students. CollegeWeekLive serves that goal because it provides Hispanic-serving school districts with an easy, convenient and free resource for their high school students to research and connect with colleges live, including HACU member colleges, online," said Antonio R. Flores, HACU President and CEO.
CollegeWeekLive is available to students, families and counselors regardless of where they live or socioeconomic status.
HACU member schools are eligible to take advantage of special CollegeWeekLive membership pricing through February 28, 2010. Admissions or financial aid representative interested in participating in CollegeWeekLive can contact 617.938.6017, or Exhibit@CollegeWeekLive.com. Students or parents interested in attending a CollegeWeekLive event can do so by visiting CollegeWeekLive.com and registering for free.
ABOUT HACU
The Hispanic Association of Colleges and Universities (HACU) is the only national educational association that represents existing and emerging Hispanic-Serving Institutions in the nation. Founded in 1986, HACU represents nearly 450 colleges and universities committed to Hispanic higher education success in the U.S., Puerto Rico, Latin America, Spain and Portugal. For more information, visit www.hacu.net.
ABOUT COLLEGEWEEKLIVE
CollegeWeekLive (http://www.CollegeWeekLive.com) is the provider of the world's largest college fairs and online admissions events. With hundreds of colleges and universities exhibiting and more than 200,000 registrants, CollegeWeekLive revolutionizes college admissions, making the process easier and more cost-effective by bringing students, parents, counselors and colleges together online, transcending time and distance. CollegeWeekLive is free for students, parents and counselors.
CollegeWeekLive is produced by PlatformQ, whose mission is to connect people, companies, organizations and associations worldwide to meet, interact and learn from leading experts and thought leaders through proven interactive tools at online events.
CollegeWeekLive and PlatformQ are trademarks of PlatformQ, LLC. All other trademarks or service marks are property of their respective owners.
###